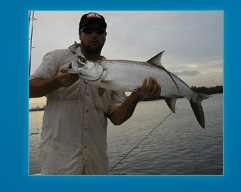 Hi, my name is Jeff Maggio. I have spent years living on this part of the Atlantic ocean. Ft. Lauderdale is where I grew up, fishing our massive waterways for tarpon and the mysterious snook. My father (Joe Maggio, founder of Salt Shaker Custom Yachts) taught me how to fish for big blue marlin, tuna and swordfish as a boy. We also had a second home in the Bahamas on Great Abaco island, allowing me to perfect bait and tackle techniques. Fishing is in my blood!
Today, I have turned my passion for sport fishing into a successful saltwater charter business that lets you enjoy the thrill of reeling in big game.
It is our mission to show you a great time catching the most elusive and powerful fish in the world. We understand what it takes to have an experience of a lifetime and we will try our hardest to make sure that happens for you.
Latest Fishing Reports

- A Great April Inshore fishing Fort Lauderdale
- Inshore Tarpon Fishing at its finest
- Its A great time year to catch Lunkers
- Florida West Coasters Crush tarpon
- January Spectacular Tarpon action and Feb Starts off strong!
- Another Good Tarpon Bite
- Tarpon Time
- Fort Lauderdale and Miami are your best bet for tarpon.
- Happy Bait 2012 Inshore fishing Fort Lauderdale
- Tarpon and Snook Trophies Fort Lauderdale